Scaffolding System Services

We are OSHA 18001 certified for scaffolding services. Our certified scaffolding services include erection, alteration & dismantle of various scaffold structures. We have solid track record in provision of scaffolding for shipbuilding, shiprepair, FPSO conversion, Rig building, Rig conversion in marine and offshore industry.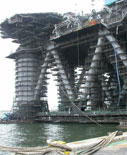 Structural Engineering

We provide engineering services involving steel fabrication of accommodation blocks, semi-submersible upper column, semi-submersible lower column, offshore structure and heli-deck.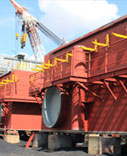 Pressure Vessel

We are U, U2 & R certified by the American Society of Mechanical Engineers (ASME) in fabricating and building of pressure vessels used in various process industries and facilities.
Logistics Services

Our logistics services is used to complement our scaffolding works. It includes our fleets of lorry cranes to transport scaffold material to and fro from site. We also have our own warehouse for housing and storage of the scaffold material.
Piping Services

We provide piping services for ship repairs, rig building and other repair works.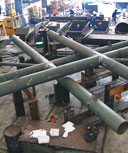 Anchorage Services

We provide anchorage and voyage services for ship repairs at Out-Port Limit (OPL) and In-Port Limit (IPL). Our skilled workforce, fabrication workshop facilities and logistic support fleet will ensure timely delivery every time. We also provide riding crew services.
Approved Training Provider

We are also an Accredited Training Provider (ATP) approved by Ministry of Manpower of Singapore. We are able to conduct Shipyard Safety Induction Course for general, hot work and painter trade, and also Marine Metal Scaffolding Course for scaffolders to the marine and offshore industry.